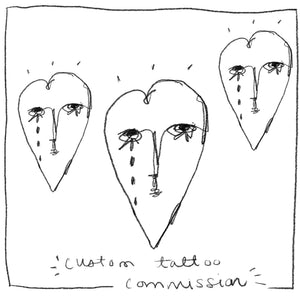 This is not a tangible product! You are securing a place in my schedule to receive a tattoo commission from me based off your own ideas and requests :) 
This commission ticket means I will be working with you to help design a personal and unique tattoo design for you. My process is that once you give me your ideas/key images to work off of, I will send along 2-3 pre-designs that we can then work off of and alter to your liking. The timeline of the design depends on the intricacy of what you are asking for - so please let me know if you need it by a certain date. 
All commissions are signed by me to allow usage and let your tattoo artist that this work was paid for.